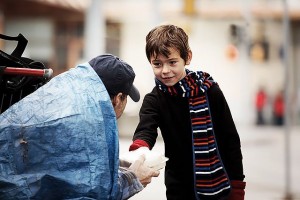 "If any man serves Me, him My Father will honor." – John 12:26
In this world power, prestige, fame and money are most respected. Those who achieve "money, power, success" as the rappers sing, are often glorified with fame. When we come into the Kingdom of God, the focus of all our efforts is changed by the very nature of Jesus Christ. We were "getters" and now we become "givers". Jesus had the power to give.
Wealth, power and success have never been represented by the power to get. The poorest man on the street spends his entire day in the pursuit of getting, acquiring and holding on to what he must have to survive. Prosperity has never been demonstrated by the desire to take. Wealth is only demonstrated by the power to give.
Have we thought of Jesus' Words without understanding what He meant? "It is more blessed to give than receive." If you have the power to give, it is because you have already been blessed, therefore you are more blessed if you have the power to give. We demonstrate prosperity by giving.
It has been proven that those with the least in terms of money and possessions are often the most generous in sharing what little they have. It is also a proven fact of life, these humble people are also the happiest.
Those who rise from humble beginnings to become fabulously wealthy beyond their dreams, feel the need to "give back". They feel they "owe" it to help others coming up behind them. They are "blessed to give".
All giving is not money. When you serve God humbly and faithfully, God Himself will honor you! While we so often think of giving in terms of dollars and cents, giving is also finding a need and trying to fill it. Even if it is only sharing a word of kindness with sincerity. We never know how far a kind word will go or how much it will help someone carrying a heavy load.
I love the verse and think on it often, "If we serve Him obediently, we will spend our days in prosperity and our years in happiness." – Job 36:11
"Serve the lord with gladness." – Psalm 100:2
Doing something positive toward another person is a good approach to feeling good about yourself. And if you consider the needy, you are blessed of God.