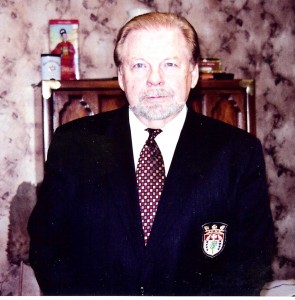 It was 1955 at Morton Center School Auditorium in Richmond, Indiana when Ruth and her son Ross first went to a healing revival. A large goiter had grown out on her neck. The evangelist Earl Ivy walked past and reached out his hand and pushed on the goiter. In front of Ross Collette's eyes, the goiter vanished. Ruth gave her heart to the Lord that same day. She was 30 years old and Ross was 10.
At the end of WW 2, a great spiritual awakening swept across America. In decades since then, it has become known among ministers as "The Great Healing Revival". It was an era of great and grand healing services all over the entire country drawing crowds of thousands of people to be healed and to witness events. A magazine entitled "The Voice of Healing" listed the names and schedules of hundreds of faith healers. Edited by Gordon Lindsay, it originally heralded the ministry of Reverend William Marion Branham.
Gordon Lindsay's book, "William Branham, Twentieth Century Prophet" sold millions of copies. The book featured an unretouched photograph of William Branham with a halo of light over his head, taken in Houston, Texas in 1951. Even the FBI verified it was an authentic photograph and offered no explanation where the light originated.
The ministries of Oral Roberts, A. A. Allen. T.L. Osborn, W.V. Grant, Sr, Katherine Khulman and others were making a major impact as well. By 1960, the smaller ministries had all but disappeared. But before the end of the decade of the '50′s, two major events would form the miracle ministry of Ross Collette to continue as one of the last of the old time healing evangelists. He would not be here ministering today were it not for William Branham and A. A. Allen.
First, in 1956, Elizabeth Smith, the pastor of Full Gospel Tabernacle in Richmond was sent home from Reid Hospital to die from cancer. Her family drove her to the A. A. Allen Miracle Revival in Akron, Ohio. There, God raised her up off the stretcher and healed her when Brother Allen prayed for her. It was such a tremendous and instantaneous change in Sister Smith, that Ross Collette never forgot it.
She came back to Richmond and pastored until 1994 in the best of health. Just to remember the goiter on his mother's neck disappearing, and now the miraculous answer to prayer with Sister Smith, a basis of faith that cannot be shaken founded the miracle ministry.
Second, an affliction in Ross Collette's own body set in. Something made his liver swell nearly five times its normal size. He lost weight and bloated at the same time, his skin turning a sickly pale yellow color. After months of missing school, a doctor visited their home and said Ross could easily be dead within three days, not to feed him anything solid and that for foolishly trusting in God, Ruth had "killed her own son".
Though the entire church prayed and the great healing evangelist William Branham was coming to town, only Ruth and one woman in the church believed that Ross would live until Rev. Branham arrived. Viola Pippin, a praying woman of faith, had a dream that she knelt at the couch, laid her hand on Ross's head and when she prayed, God would heal him. On a Friday night, she came to Ruth's home and found Ross propped on pillows on the couch. She knelt down to pray but instead said, "Thus saith the Lord unto thee, thou shalt live and not die. You will carry My gospel around the world and the Lord shall make thee a deliverer among my people."
The healing was complete and by morning, Ruth was telling everyone it was a miracle her son was alive. William Branham's meeting was to begin at 7:00 that night, but Brother Branham never preached or ministered. When Ross walked under the tent, the miracle was so incredible that people ran up to touch him, and the healing and "Miracle Ministry of Ross Collette" began. He never touched them, they touched him.
J.D. Matson-Boze, the Swedish born co-evangelist with Brother Branham recognized the anointing and calling of God, and took Ross to sit on the platform every night of the meeting. He patiently explained the Gifts of the Holy Spirit to Ross as every night. Brother Branham would call people out of the audience and pray for them, telling them things that only they and God knew. They told of angelic light that filled the tent for those were the days of great outpouring, the likes of which the world has not seen since. Ross Collette patterned his life and ministry after William Branham until a car accident took him home.
Another of the great healing evangelists had begun drawing the largest crowds in America. At the Carthage Country Fairgrounds in Cincinnati under the great white tent, A. A. Allen laid his suit coat over Ross Collette's shoulder and simply said, "Follow me." Just out of high school that summer, Ross made arrangements to move to Miracle Valley, Arizona and enrolled in the Bible school. He was only there for one semester before Brother Allen hired him full time to travel with the tent. From the fall of 1962 until June 10, 1970, Ross worked as A. A. Allen's assistant. He wrote books, edited sermons, reported for Miracle Magazine, preached and sang in the crusades, announced for the radio and TV ministry, filmed, took photos, whatever was needed, even to writing checks and balancing Brother Allen's checkbook.
In the Toledo, Ohio crusade at the Civic Center on Main Street, Kaye and her mother came to a morning service of Brother Allen's. It just so happened that Ross's Mom and Dad drove up from Indiana that same day. During the evening service, Ross sat down beside his Mom and said, "See that girl right over there? That's the girl I'm going to marry." He hadn't met her yet, but Kaye and Ross later married and have been together ever since.
Brother Allen took Kaye in as his own daughter and when Brother Allen died in 1970, they were devastated.
"Kaye and I literally didn't know what to do since our lives had been so wrapped up in Brother Allen's ministry. But one night, another prophecy changed the course and direction of the Miracle Ministry of Ross Collette. All of the old ones were gone, but God was raising up a new generation of powerful and anointed men and women of God."
God truly works in mysterious ways, and used the most unlikely of people to prophesy a true Word of the Spirit to Ross Collette. It was at the same Carthage Fairgrounds, under a completely different tent, a man prophesied, "God called you. You were anointed of God before you met Branham and Allen. You were anointed while you were with then. You are anointed now after they are gone. You are the anointed of God."
It would take years for these words to sink in, but they have.
Ross Collette has traveled to nearly every Christian country in the world, preaching this Gospel and ministering with the Gifts of the Holy Spirit. Every day is new. The only church in the world with "MIRACLE BLVD" is Deeper Life Ministries. Miracle Blvd is the middle aisle in Deeper Life at Utica and Gratiot in Roseville. Take a trip down Miracle Blvd.